Floral Design Classes Online: Learn Art of Flower Arranging at Home!
Watch videos of our floral design classes online. If you are unable to attend our flower design classes at one of our many locations across the county, these easy-to-follow instruction videos are a great alternative to learning floral design. Pay a one time fee and watched our videos over and over again! Watch as many times and as often as you like for a full 30 days!
One time fee. No recurring membership fees!

Only buy the videos you are interested in!

Watch as often as you like over 30 days!

Learn at your own speed right from your home!

Online Flower Design Classes Only $9.99!
Learn to How to Become a Floral Design Expert Online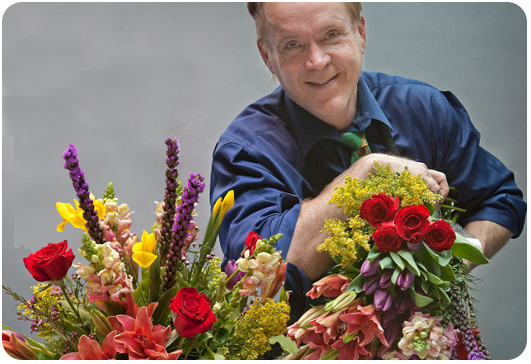 Here at the American School of Flower Design, we teach beginners how to become expert flower designers. Each of our flower design tutorial videos focuses on one of the several subjects we teach in our classrooms.
Each video averages 35 minutes in length. Every video contains complete detailed instructions into a popular style of floral design. From Classic Foral Design to English Flower Design, our videos got you covered. Michael Gaffney has spent years studying floral design. Now he  makes his design knowledge available to you.
From our videos, you will learn the skills needed to begin an exciting journey as a floral designer. Our online floral design videos will assist you in mastering the fundamentals floral design. As a floral designer, you can design floral arrangements yourself. You may decide to enter the world of floral design professionally. Why not design floral arrangements for weddings? Become a party planner. Or even might one day consider opening your own flower shop!
Enjoy these floral design videos and keep blooming!
Class 1: Classic Dozen Roses Vased

How do flower shops always arrange perfect roses? Here lies the secrets to perfect roses. Whether its roses, irises, snapdragons or a different flower you choose from your garden, after watching this video you will know how to design them perfectly every time. It's easy and simple as long as you follow Michael's clear directions. Never have an ugly flower arrangement again!
Buy Access to Full Video Now
Class 2: Mixed Vase Arrangement

Mixed vase design, often called a loose European mixed design, is one of the hardest designs to do because its uses two or three of everything in the garden. In this video, Michael Gaffney shows you how to control the flowers and put them in their proper place. There's a reason and science behind why you put a flower where you put it …watch this video and learn all of his secrets!
Buy Access to Full Video Now
Class 3: All Rose Hand-Tied Bouquet

The all rose hand-tied bouquet is the most requested bridal design in America. It's fast, easy, and gorgeous to use! Brides put it on their tables in tall glass vases at the reception and it's always a winner. It's a classic and it's very popular. Learn how to do it perfectly every time by watching Michaels video on the "All Rose Hand-Tied Bouquet."
Buy Access to Full Video Now
Class 4: Hydrangea Bouquet

The hydrangea bouquet is America's favorite flower lately, but with a hydrangea the problem is that they often droop once you get them home. Watch this video and learn the secrets to keep them lasting longer than you ever thought they could. You will also learn how to design perfect elegant bridal or table settings using hydrangeas as you're base!
Buy Access to Full Video Now