Girls Night Out – Private Classes with Pro Floral Designer
Grab your friends and join us for a great night of design celebration and fun. Michael or one of his top designers will give you an inside look at the flower business while you learn how to create gorgeous designs.
We provide all the flowers tools and containers and most importantly a very fun and informative night of flowers and design. We call it flower power. Every one of your friends will leave with a great design valued between $75 and $125. You will learn about floral trends and floral styles, how to get flowers to last for weeks instead of days and everyone will have a fantastic night.
No group too large or too small….
Food and beverage available whether brought by you or provided by us.
Design styles from simple modern home decor to haute couture bridal looks.
We'll supply lots and lots of flowers and all materials, containers and tools.
Prices from $25 to $125 per person depending on the number of designs.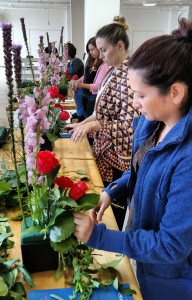 So call all the girls (and the boys) and get together for a great night of design.
You'll be a Design Star by the end of the evening.
Call Michael at 414-617-7162 or fill out the form below and we'll arrange a fantastic evening of flowers and fun.