Flower Power at the American School of Flower Design
Registration is simple! Call us at 414-617-7162 or click to register online from each school's page!
Michael Gaffney spent years deciphering the methods, patterns, formulas of great design. He has taught class on the Today Show, Hallmark Channel and every major network! Why? Because his methods work. We include lots of flowers, tons of information and most of all, an understanding of design. An approach that produces spectacular results.
Our School of Flower Design presents intensive floral design programs that introduce students into the world of the floral designer. Areas of floral design instruction currently include European Floral Design, Contemporary Floral Design, Bridal Floral Design, Landscape Floral Design, Asian Floral Design and other Flower Design classes.
Our floral design courses are sought by flower lovers of all kinds. The knowledge gained in our floral design classes helps hobbyists and professionals alike interested in the art of great floral design. Take a look at this gallery of pictures from our classes to see just how much our students can do. Michael Gaffney teaches all of the Floral Design Classes based on his unique and artful Floral Design approach.
Mike has written 3 Floral Design Books, American in Paris: Lessons from the Paris School of Flower Design , Design Star: Lessons from the New York School of Flower Design and Flower Power: Lessons from the Los Angeles School of Flower Design.
Don't just take our word for it, read some of the many published articles about the American School of Flower Design and learn the latest news about our schools.
Click Here for Class Dates & Tuition Information
"When friends ask me how I liked the classes, I told them 'It's the best 6 hours of my week! The time flies and I hate when it's over!'"
— Pam Dunkel
Our Mission
Is to communicate, instruct and share the elements and principles of flower design and to provide a relaxing, yet intensive, learning environment in which our students acquire lifelong skills and use their knowledge to create beauty through floral design. Our goal is to have our students capable of producing beautiful pieces of flower art for their home or office.
Our school offers both day and evening courses in the art of Flower Design to accommodate most every schedule!
See our start dates for more information on Flower Design Classes Registration.
Click Here for Class Dates & Tuition Information
Call 414-617-7162 for full and half course period tuitions for our flower arranging classes. Tuitions vary slightly in each city depending on programs. Each full course period includes design, marketing, lectures, field trips and all flowers from the American School of Flower Design!
About Michael Gaffney – Floral Designer to the Stars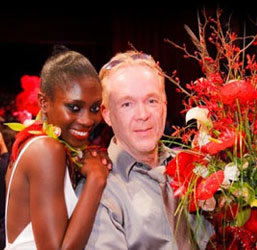 It's a Flower Power Story
World renowned floral designer Michael Gaffney teaches flower design from the ground up. Learn from the master and you, too, could become a designer. Want an artistic, creative life that adds emotional significance to nearly any experience? Then consider American Floral Design Schools.
Once upon a time, Michael Gaffney worked away in a cubicle on Wall Street. Overworked and uninspired, he didn't really know how unsatisfied he was until one day, on a visit to his Midwest hometown, he stepped into a flower shop.
"I realized how much flowers can affect a person. They're part of every stage of life – birth, death, weddings, funerals, memories, romance. And I saw how good designs make a stronger impact. Suddenly, I wanted to be part of that. I saw floral design as a way to help people renew, recover, express sympathy, fall in love, and share friendship. And in doing that, I understood that I could actually make a good living, doing something I love, while adding beauty and flair to events that touch people's lives."
Michael's floral designs have graced a wide spectrum of occasions, from a simple first date bouquet to grand wedding arrangements; from movie sets to haute couture fashion shows, and everything in between. "I came to see myself as an artist for people's emotions. I made a good living, yes, but my art made other people happy. It was remarkably satisfying. And flowers, of course, grow and bloom, but they don't last forever. They disappear. It's a medium that's both dynamic and ethereal. You're always being called on to create something new, but it won't last either. And that's okay. That's what makes every bouquet, every event special. It's like working every single day with the best things in life – flowers, certainly, together with energy, creativity, reinvention, renewal."