Milwaukee School of Flower Design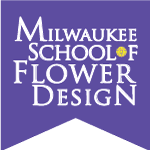 Located at:
4831 W. State St.
Milwaukee
WI 53208
Upcoming Classes in Milwaukee:

Starting Feb 5, 2018
Starting May 14, 2018
Click on a tab below to learn about our Floral Design Classes
See Full List of Floral Design Class Prices Below:
*approximate retail value
FREE Floral Design Seminar!
We will be holding a FREE Floral Design Seminar showcasing past floral designs and new floral arrangement ideas. This seminar is open to all!
Join our newsletter for upcoming dates!
We'll be showing floral design tips from my new book Flower Power: Lessons from the Los Angeles School of Flower Design.
Questions?
Call 877-322-5666
to speak with one of
our floral designers.

Ask about our
FREE
Flower Design class!
Buy Flower Crazy