Floristry Courses: Learn How to Arrange Flowers!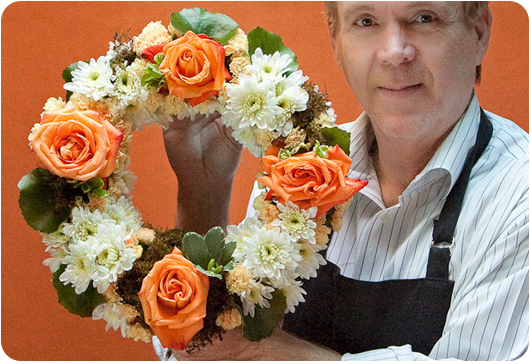 When you sign up for one of our  courses:
Small floristry classes with plenty  of individual attention
Our floristry courses provide great exposure into the world the floral industry
Students receive all the flowers*  and containers needed
Featured on NBC's Today Show, ABC New York Channel 7, and the Hallmark Channel
Student portfolios completed upon graduation
We use proven methods of teaching floristry design
Take only the floristry classes you wish
Students receive a FREE copy of Michael Gaffney's book "Design Star"!
* actual value of flowers provided varies depended on the floristry class taken
Each of our floristry courses provide students with plenty of flowers. Our floral instructors also offer useful floristry information. When students complete one of our many floristry courses, they leave the course with a total understanding of the concepts of floristry design.
Our Flower Design school offer intensive floristry courses. We introduce our students into the world of floristry. Our floristry courses teach floral design to students of various skill levels and experience. One of our floristry experts will be happy to speak with you. Let us find the perfect floristry course for you!
The Best Floristry Courses Available
Do you wish to become a florist? Want to design flowers for your wedding? Our floristry courses can help. All our floristry classes are "hands-on". This means that students have an opportunity to work with all sorts of fresh flowers. Our classes are kept small on purpose in order to maintain a good teacher to student ratio.
Our founder, Michael Gaffney, has spent years formulating his proven teaching methods. The result is easy to understand design formulas that you can use to create great floral arrangements. Michael has taught floristry courses for television shows such as the Today Show, Hallmark Channel and every major TV network!
Call 414-617-7162 to chat with one of our floristry experts. Let them help answer any of your questions. They can even sign you up for a floristry course!