I'll also be opening and closing Macy's Flower Show this year in their flagship Herald Square store in New York City. For opening day, Sunday, March 20th, I'll be in the in store to do a book signing.
I'll be back in their flagship Herald Square store on Saturday, March 26th at 1PM to do a Great Plains Wheat wreath making seminar.
Speaking of New York, last week was a great week! Thanks to everybody who supports the American Schools of Flower Design in every way …thanks especially to my student Ms. Duffy who brought non-alcoholic champagne and cookies to celebrate the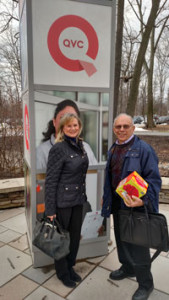 QVC announcement because, as she said "I was all alone on the road and needed to celebrate amongst friends". It was so very sweet and I needed to celebrate. She was right!!!
We have Masters' classes starting soon in both Chicago and LA for Floral Designers who have taken our 1 week intensive or our 4 or 6 week course from Beginner to Design Star. In the Masters' class you'll be studying high end event designing.
Both are February 29th – March 4th starts.
We'll also be doing 1 week Masters' classes in San Diego and Orange County starting April 11th.
….if you are interested in attending Masters' Class in either those cities please or have any questions call me right away and put you on the list.
We were recently featured in an article, Learning the Math and Science of Beauty at the Miami School of Flower Design.